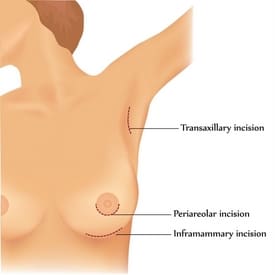 Breast augmentation, or augmentation mammaplasty, is a cosmetic procedure that increases a woman's breast size with implants via one of several incision techniques, including inframammary and areolar breast augmentation. Our adept cosmetic surgeons and supportive staff at Gaines Plastic Surgery in Gainesville, Florida, are here to help you review your breast augmentation options.
After you have undergone a consultation with your cosmetic surgeon and decided to have breast augmentation, you and your doctor will review the surgical incision techniques available to you. Areolar (or peri-areolar) and inframammary incision breast augmentations are two of the most popular incision techniques. It is important that you research and discuss these options with Gainesville plastic surgeon Greg Gaines to explore the pros and cons of each.
Areolar Breast Augmentation
Areolar breast augmentation, also referred to as peri-areolar augmentation, is a surgical procedure in which saline or silicone gel implants are inserted above or below the breast muscle via an incision at the edge of the dark areola surrounding the nipple.
During this surgery, a half-circle incision is made at the bottom edge of the areola surrounding your nipple. Your cosmetic surgeon will cut through fat and breast tissue below your nipple and create a pocket above or below the pectoralis major muscle in the breast. Your silicone or saline implant is then inserted in this pocket and positioned by your doctor.
If you have chosen saline implants, they will then be filled. Your surgeon will then close the areolar incisions with dissolvable sutures and dress the incision area. Surgical tape may be used to ensure that your incision stays closed while the incision wound heals, which reduces scarring.
Benefits and Risks of Areolar Breast Augmentation:
The areolar breast augmentation procedure is associated with some risks and benefits:
If you are considering a simultaneous breast lift, an incision will already be made at the areola, so it makes sense to have your breast implant inserted in the same place.
Breast ducts can harbor bacteria, so an areolar incision may carry a higher risk for infection than an inframammary incision. To reduce this risk, your plastic surgeon can use a sterilized sleeve to insert rolled up saline implant (the sleeve cannot be used for pre-filled silicone implants).
Areolar breast augmentation carries a higher risk for nerve, duct and glandular complications and damage, which may decrease nipple sensitivity or create breast numbness.
Women with small areolas may not be able to receive pre-filled silicone implants through this incision.
Inframammary Breast Augmentation
Inframammary breast augmentation involves an incision made beneath the breast where it meets the skin over the ribs, through which saline or silicone gel implants can be inserted.
During this surgery, an incision, usually smaller than 2-inches in length at most, is made. As in the areolar incision, implants can be placed above or below the muscle dependent on you and your surgeon's decision.  Saline implants can be inserted partially filled and then filled the rest of the way after insertion. The incision is then closed in much the same way as the areolar insertion, and is dressed and treated to prevent scarring.
Benefits and Risks of Inframammary Breast Augmentation:
The inframammary breast augmentation procedure is associated with some risks and benefits:
The inframammary incision is the most direct access point to where the breast implant will go, allowing for easier positioning and repositioning.
Should a complication arise or your breast implants need adjustments, replacements, or removal, this incision type eliminates the need for two scars in the future.
This area of the breast harbors less bacteria than around the areola, meaning a lower risk of infection.
The scar may be larger and more visible than the areolar scar; however, it is only visible when the breast is lifted.
There are many choices to consider before a breast augmentation surgery. At Gaines Plastic Surgery, we are happy to show you real examples and testimonials from women receiving both types of incisions, as well as testimonials on saline vs. silicone implants, what size implants fit you, and more.
At our offices in Gainesville, breast augmentation is just one of many cosmetic surgeries Dr. Greg Gaines can perform to enhance your appearance and reinvigorate a more confident, comfortable you. Please contact us today for a confidential, free consultation to answer your questions.