What is a reverse tummy tuck?
Reverse abdominoplasty, or a reverse tummy tuck, is a plastic surgery procedure that focuses on the upper abdomen. This surgery is a mirror of the traditional tummy tuck, which focuses on the lower abdominal area. This surgery removes loose skin from the region above the belly button. It is not nearly as common as a traditional tummy tuck, but a skilled plastic surgeon understands the technique that is necessary to help some patients achieve their best body.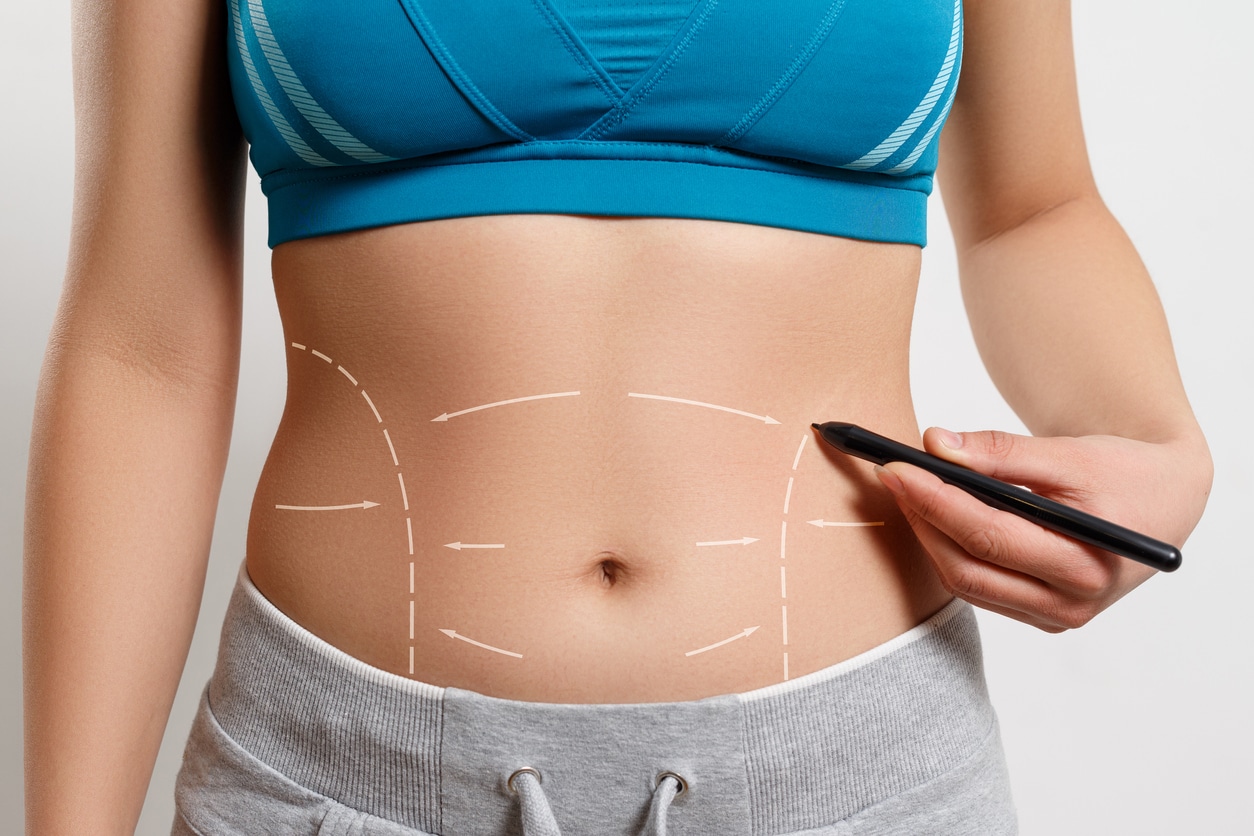 Who is a candidate for a reverse tummy tuck?
A reverse tummy tuck may be an excellent plastic surgery procedure for the person who has lost a significant amount of weight. In cases of extreme weight loss, there is no way to predict how the skin will retract, nor where. The reverse tummy tuck addresses a hard-to-tone part of the body that may lose fat but retain loose skin. This procedure is sometimes done for minor refinements after a person has had a traditional tummy tuck. As with all plastic surgery procedures, ideal candidates are in good physical and emotional health and do not smoke. If you smoke, we request that you quit as soon as possible and avoid smoking for at least a few weeks after surgery. If you currently have loose abdominal tissue that you would like to correct but you plan on getting pregnant in the future, a surgeon may recommend that you wait until you are done having children, since pregnancy will stretch the area that has been sculpted.
Is a reverse tummy tuck right for you?
The best way to know is to schedule a consultation at Gaines Plastic Surgery in Gainesville, FL. However, you may begin by observing your abdominal tissue when looking in the mirror. If, when standing upright, the skin below your belly button is drooping downward, you may benefit from a mini tummy tuck. If, when looking at your belly button, the tissue above and below is loose, you may benefit from a full tummy tuck. If the tissue above the belly button is drooping downward but the tissue below the midsection is smooth and relatively taut, the reverse tummy tuck may be right for you.
Reverse Tummy Tuck - Before & After
How is a reverse tummy tuck performed?
Reverse abdominoplasty is an outpatient procedure that is performed using general anesthesia. Patients are in a controlled sleep state throughout their surgery. They remain in a recovery area until they are alert enough to be released to a loved one who will drive them home. To begin the procedure, one incision is made along the inframammary crease. This is just below the breasts. The incision will span from one side of the torso to the other, which will result in a long scar. However, the location of the incision is beneath a bra or bathing suit line so the scar should be easy to hide. After making the incision, the surgeon lifts the skin upward to create a new, smooth contour. Sutures are inserted to secure tissue. The torso may be wrapped with a dressing and compression garment.
What should I expect after a reverse tummy tuck?
A smoother, tighter abdomen is immediately noticeable after the reverse tummy tuck. Swelling is expected and some bruising may also occur. Surgical side effects typically resolve completely within a few months, after which the full benefit of surgery can be enjoyed. The scar from surgical incisions continues to fade for several months. A scar treatment program can begin about one-month post-op to help heal the skin.
How is recovery from a reverse tummy tuck?
Recovery lasts between one and two weeks. A surgical bandage must be worn for several days to help support the new abdominal contour. During the first two weeks, patients can expect bruising, swelling, and tenderness to resolve gradually. At first, comfort is managed with prescription pain medication. After a week to 10 days, patients usually feel good enough to transition to over-the-counter pain relief. Around this time, they may also be ready to return to work. Light activities may resume but the strenuous physical activity must be avoided for about 6 weeks.
Is a reverse tummy tuck painful?
Abdominal plastic surgery is performed using general anesthesia. This is delivered continuously via an IV drip maintained throughout the procedure. General anesthesia is administered and monitored by a board-certified anesthesiologist. The medications that are used create a sleep state in which pain receptors are shut down. Patients do not feel pain during their procedure. Once the anesthesia wears off, soreness and tenderness may occur. This is managed with prescription pain medication.
What are the potential risks of a reverse tummy tuck?
All surgeries carry inherent risks such as an adverse reaction to anesthesia, bleeding, and infection. Plastic surgery procedures like the reverse tummy tuck carry risks such as:
Blood accumulation beneath the skin (hematoma)
Fluid buildup beneath the skin (seroma)
Bruising
Asymmetrical results
Poor scarring
Patient Tummy Tuck Testimonial
"Doctor Gaines is an excellent surgeon with a great staff. He did an amazing job on my tummy tuck. I had a lot of loose skin with stretch marks due to pregnancy with twins. I am so happy with my results. I would highly recommend Dr. Gaines."
Click here to read more reviews.
Schedule Your Consultation in Gainesville, FL Today
If you're interested in learning more about reverse tummy tucks please contact us for a consultation with Dr. Greg Gaines at (352) 333-9600 or fill out our contact us form in the sidebar above. We will discuss your needs and concerns, and determine your best course of action.